(29th-31st Dec 2022)
New Beginning in Ortho Segment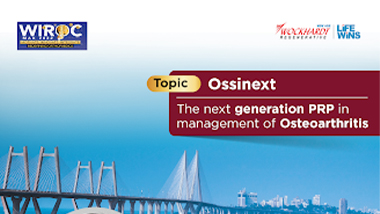 Wockhardt Regenerative  participated with a Session by Dr Subhash Jangid on  Ossinext-The Next Generation PRP in Management of  OA Pain,  with main highlights on  efficacy and safety 
We thank 200 Doctors who  graced our conference booth
Expanding GFC's presence and Voice
by participating in various conferences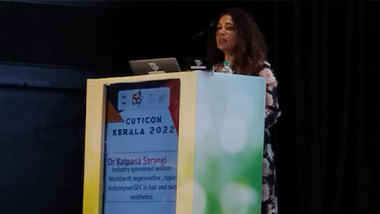 Wockhardt Regenerative' s aim is to Regenerate life  with next generation autologus GFC therapy  and hence to build the awareness and increase the reach about these treatments in Hair and Skin aesthetics , Wockhardt Regenerative participated in various conferences through sessions by eminent dermatologist and stalls across India 
Celebration of International Men's Day 2022


#LetsMENtionIt … Wockhardt Regenerative was inspired & honoured to be associated with Men's Health awareness initiative by Nanavati Max hospital Mumbai with an Inauguration of a Men's Aesthetic clinic on the eve of International Men's Day by Dr. Kalpana Sarangi and Bollywood Actor Mr. Vicky Kaushal.
Dr. Kalpana Sarangi highlighted the benefits of Wockhardt GFC therapy kits – Follirich in Alopecia and Yuskin in Facial rejuvenation, Acne scar and Melasma to celebrity star Mr.Vicky Kaushal who also emphasized that scalp and skin health awareness is essential for Men's Health and profession which in turn helps to regenerate confidence and makes one feel empowered
Alopecia is psychologically damaging, causes intense emotional suffering, and leads to personal. social, and work related problems. There is an important link between hair and identity. Hair loss for one can feel like losing their identity. A lot many times people fail to realise the symptoms of alopecia in their early stages and regret later as they have to wait long to regain their hair?
As one for patient centricity initiative on the occasion of World alopecia awareness month in Sep 22 engaged the doctors to share their journey on alopecia discussing on challenges faced by alopecia patients, advise and positivity shared by doctors on early diagnosis and treatment of alopecia
early diagnosis initiative
Folliclinic is a unique patient support program and service oriented partnership with Dermatologist for diagnosis of alopecia to increase awareness on hair health through hair camps hosted at Derma Clinics. A revolutionary hair health screening campaign that is conducted using a revolutionary technolgy which is used for checking hair loss status, scalp status, hair density, hair thickness, hair pore and keratin of scalp.
Further, each patient is given a post analysis electronic report which could be promptly shared with doctor for further analysis. Till now, this initiative has touched over 3000 patients in the last one year.
Doctor subscribe for Folliclinic here, Please provide details here , our team will reach out to you
Spreading clinical evidence through real world data


Aesthetic medicine has been progressing steadily in the last 20 years. But one therapy that is fast becoming the torch bearer of future is Wockhardt Regenerative' s growth factor therapy-a revolutionary next generation to the PRP therapy. As fine practitioner in the advanced field of aesthetic medicine, you would only believe in verified substantiations . Hence we bring to you this newsletter with articles and casestudies from India's leading dermatologist and cosmetologist giving their nod to Follirich and Yuskin-India's first and only GFC formulation that is clinically proven, autologus ready to inject kits
If you are interested to share real world data.